Medium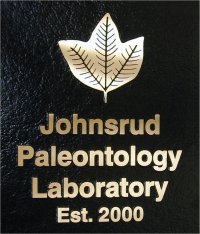 Dedication of the New Johnsrud Paleontology Laboratory;
John W. Hoganson
The dedication of the new NDGS Johnsrud Paleontology Laboratory was held at the North Dakota Heritage Center on October 19, 2000. Clarence Johnsrud and his family donated to the State Fossil Collection a huge collection of beautifully preserved leaf fossils (Figures 1A- 1E). Clarence had collected the specimens from the Paleocene-age Sentinel Butte Formation near Trenton (2000 NDGS Newsletter Article–v. 27, no. 1).  An exhibit of those fossils can be viewed in the main gallery of the Heritage Center.  In addition, the Johnsrud family donated $200,000 to the NDGS paleontology program to develop a new exhibit in the Corridor of Time at the Heritage Center and to renovate the new NDGS paleontology laboratory.  That exhibit, called the North Dakota Everglades, will display the environment and life forms in North Dakota 58 million years ago, when much of the state was a subtropical, swampy lowland similar to south Florida.  The exhibit will feature Johnsrud plant fossils and will also contain the remains of other plants and animals, such as crocodiles and turtles, which inhabited North Dakota at that time.
The North Dakota State Fossil Collection has grown substantially since its creation in 1989 by legislative mandate.  Additional space was needed in the Heritage Center to develop the collection further and to prepare fossils for research and exhibit.  The State Historical Society of North Dakota provided additional space in the Heritage Center for expansion of the NDGS State Fossil Collection but funds were not available for renovation of this undeveloped area previously used for storage.  Funds provided by the Johnsrud family have allowed us to renovate this space to create the new paleontology laboratory.  I am pleased to announce that the new laboratory will be called the Johnsrud Paleontology Laboratory in recognition of and in thanks for the support from the Johnsrud family.  The new laboratory triples our space and as a result enhances our capability to care for North Dakota's fossil resources and to restore fossil specimens for exhibit at the Heritage Center and other museums around the state.
Clarence, his wife, Clarice, and nine other members of the Johnsrud family traveled from Trenton and Williston, North Dakota, and Buford and Houston, Texas, to attend the dedication.  Over 100 other people visited the laboratory during the ceremony (Figure 2).  John Bluemle, State Geologist of North Dakota, Sam Wegner, Superintendent of the State Historical Society of North Dakota, and John Hoganson, NDGS paleontologist, gave short speeches thanking the Johnsrud family for their generous donations (Figure 3).
| | | |
| --- | --- | --- |
| | | |
| 1A.- Fern, Onoclea, 9 cm high.  | 1B. - Horse chestnut, Aesculus, 7.5 cm high. | 1C. - Sycamore, Platanus, 20 cm wide. |
|   |   |   |

1D. - Dawn redwood, Metasequoia, 20 cm high.

1E. - Honeysuckle, Viburnum, 11.5 cm high.


Figures 1A -1E.  Leaf fossils in the North Dakota State Fossil Collection donated by the Johnsrud Family
 

Figure 2. - The Johnsrud family touring the new lab collection storage room.
Figure 3. - Clarice and Clarence Johnsrud listen as John Bluemle (center) gives a thank you speech.