NDGS Paleo Pals Membership Program
Medium
h2
Left
NDGS Paleo Pals Membership Program
Do you want to take an active role in helping preserve North Dakota's prehistoric heritage? Sign up today to join the NDGS Paleo Pals!

What Does Your Annual Donation Support?
The Public Fossil Dig Program: Provides supplies and new equipment, which helps lower the daily registration costs for participants.
Field and Lab Internships: With enough funds we can provide opportunities for students studying paleontology to gain important technical experience.
Paleontology Exhibits: We maintain over two dozen fossil exhibits across North Dakota, making sure everyone can learn our prehistoric heritage.
Support Levels:
| Level* | Donation | Benefits |
| --- | --- | --- |
| Eumys: | $20-$99 | Certificate of Appreciation and a ND Paleo Friend lapel pin1 |
| Borealosuchus: | $100-$249 | One of our Paleontologists will hold a 1 hour video chat with a classroom or other gathering of your choice2 |
| Smilodon: | $250-$499 | One behind the scenes tour of the ND Paleontology Labs3 |
| Mosasaurus: | $500-$749 | A museum quality cast of one of our more interesting fossils4 |
| Tyrannosaurus: | $750 and up | A private teaching session to learn to clean real fossils5 |
*Each level also includes the benefits for the lower levels. For example, Borealosuchus level also includes Eumys level benefits.
1Pins will be sent to first year members only unless you request to have another pin sent to you in subsequent years. All memberships span from January 1st to December 31st of that year, regardless of when you join during the year.
2Group subject to prior approval and must be scheduled at least 30 days in advance. No recording or unauthorized use of video chat.3Tour group may include up to 10 people and must be scheduled at least 30 days in advance.
4A different cast will be offered each year and will be selected by the ND Paleontologists.
5Group of up to 4 people and everyone must be age 15 or older. Must be scheduled at least 30 days in advance.
Friends of NDGS Paleo
We're excited to announce a new partnership with Friends of NDGS Paleo, a 501(c)(3) nonprofit organization. Any donations made to the public fossil dig programs through the Friends group are now tax-deductible! Starting in fall 2021, the Friends group will manage the Dig Supporter and Paleo Pals programs. For more information, you can contact the Friends group at: 
Friends of NDGS Paleo
Triss Ford - President
Katy Brooke - Secretary/Treasurer
PO Box 164
Mandan, ND 58554
United States
Phone: 701-516-8665
ndpaleofriends@gmail.com
Interested in learning more? Join our mailing list!
Please note: joining our Dig Supporter program also makes you a NDGS Paleo Pal at the corresponding level (see FAQ page for details).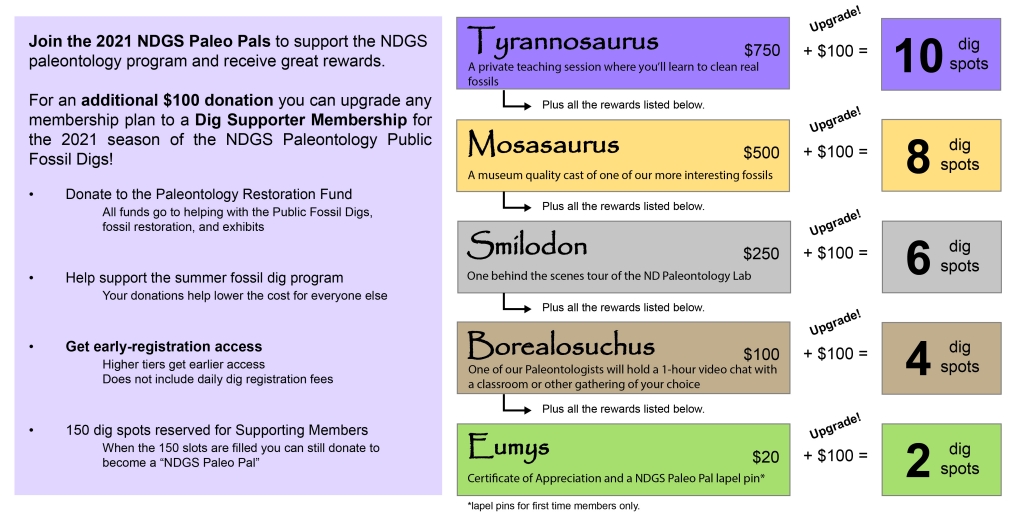 Support the 2021 Public Fossil Digs
We are working hard to meet two goals for the 2021 digs:
Offer as many fossil dig opportunities as possible.
Keep the costs as affordable as possible for everyone.
Dig Supporters will provide a donation that will be used to fund the public digs program and keep down the daily fee that everyone will pay to attend. As a thank you for your support of the Public Fossil Digs Program, you will gain access to Priority Registration for the 2021 digs. The number of early registration spots each person gets is based on their donation level. Higher donation levels will also get priority registration over lower levels. For example, Smilodon Dig Supporters will be able to register before Borealosuchus Dig Supporters. Only 150 priority registration spots will be made available through this offer leaving over 400 spots for the full registration day. The 2021 Dig Supporters are currently full. Please see the Dig Supporter & Paleo Pal FAQs page for details. Contact Clint Boyd with any questions [ndgspaleo@nd.gov or (701) 328-8163].