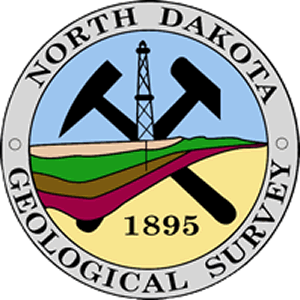 North Dakota Geological Survey
X Marks the Spot: #1
By Mark A. Gonzalez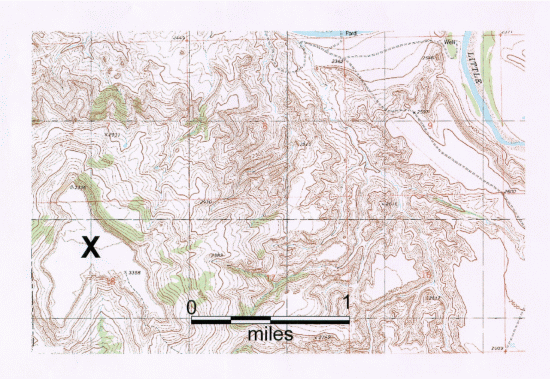 This is the debut of a new column in the NDGS Newsletter. As a small gesture of thanks to our loyal readers, I am initiating a contest to enable readers to test their knowledge of North Dakota geography and geology. In this and subsequent issues, I will include a topographic map, ground photo, or air photo of some unidentified place in North Dakota. Readers will have an opportunity to examine the maps or photos and then to submit answers to questions regarding the locale.

Answers may be submitted by mail, e-mail, or via our web site, which will contain the contest as it appears in the NDGS Newsletter. Those individuals who submit correct responses will qualify for a random drawing to win a prize.

The staff at the NDGS will conduct the drawing. Prizes for the first contest will include a copy of John Bluemle's Face of North Dakota (third edition) for one respondent and a Geologic Map of North Dakota for another. In future contests, NDGS will award these and other items, including casts of fossils found in North Dakota, posters, geologic fieldtrip guidebooks, and other items distributed by the NDGS.

For the debut contest, I have selected an easily recognized landform of North Dakota. Of course easy is relative. If you have ever been to this site, you will immediately recognize the spot on the topographic map. Even if you haven't been there, you might deduce the answer by studying some of the information provided on this topographic map and perhaps by consulting other maps of North Dakota. When you have identified the location marked by the X, submit your responses to these questions:

1) What is the place name of the location marked by the X (required for entry into drawing)?

2) For extra credit: What is the geologic formation (formal stratigraphic name) that crops out at this locality? (Note: this is not required for entry drawing, but is sure to win you the adulation of our readers.)

Responses submitted by July 15, 2001, will be eligible for the prize drawings. Be sure to include your name, mailing address, phone number, and e-mail address (optional). The names of everyone submitting a correct response will appear on our web site. (Inform us if you wish to remain anonymous.) Good luck.




---